Audio loopback between two imx using USB UAC2
UAC can be used to transfer audio using the USB connection. This tutorial shows in 5 command lines how to get a loopback to hear the microphone from one imx out from the speaker output of another imx, only using a USB cable to connect them, and the following command lines.
UAC1 and UAC2 support:
UAC2 is not supported by windows but supports both playback and capture;
UAC1 is supported by windows, but only supports playback.
See the connections I used in the following image.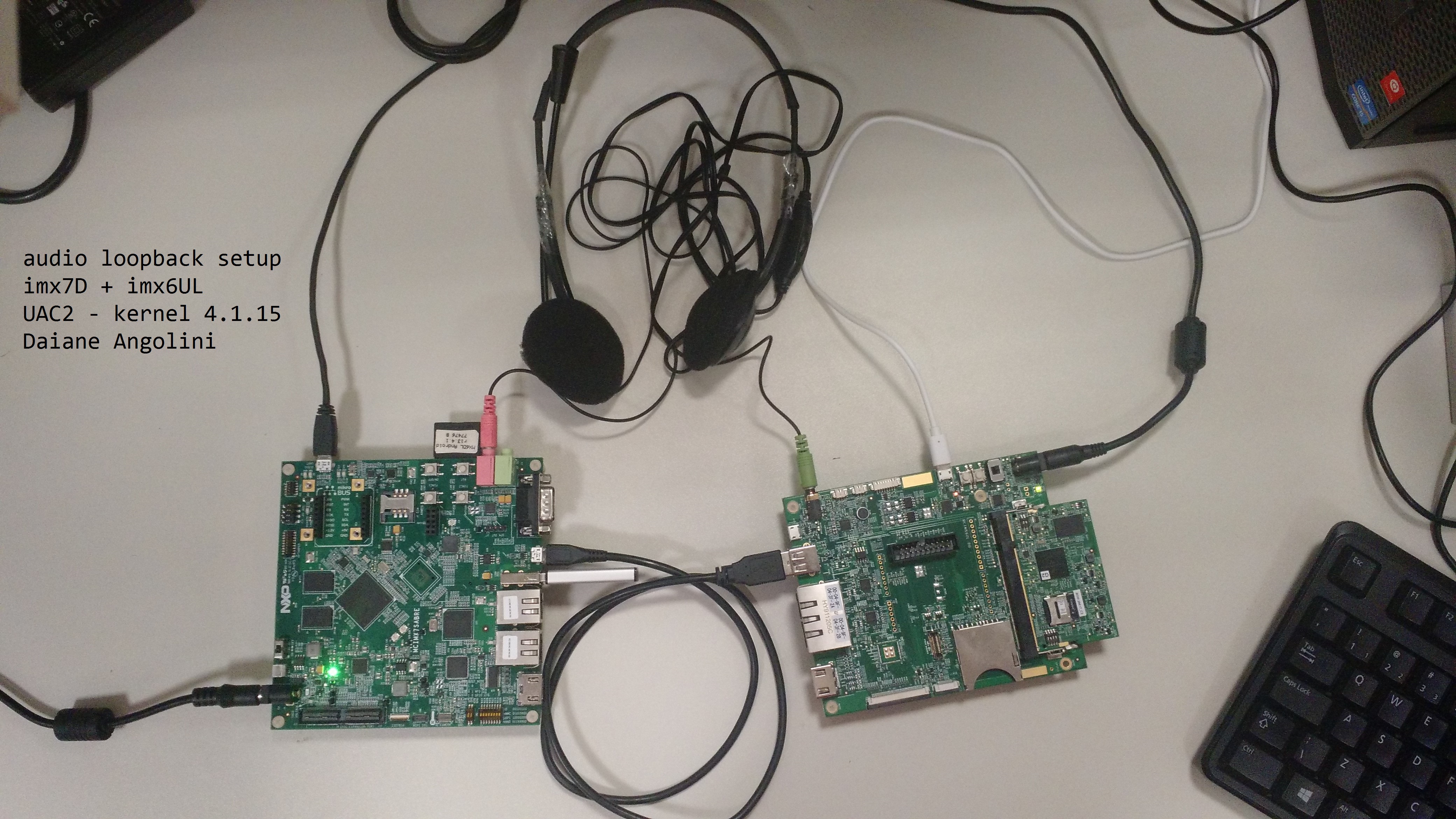 How to record the remote audio
The following procedure plays the Kaleidoscope wav file in i.MX7D board and transfers it to i.MX6UL board thought the USB cable recording it to file_48.wav.
1. modprobe g_audio c_srate=48000 (IMX7)
2. arecord -Dhw:1 -r 48000 -c 2 -f S16_LE -d 200 file_48.wav (IMX6UL)
3. aplay -Dhw:2 /run/media/sda1/Kaleidoscope_raw_48.wav (IMX7)

LOOPBACK
The following procedure take the audio from the attached microphone on i.MX7D, transfers it to i.MX6UL and play it on the headphone (see picture)
4. arecord -f dat -t wav -D hw:0,0 | aplay -D hw:2,0 (IMX7)
5. arecord -f dat -t wav -D hw:1,0 | aplay -D hw:0,0 (IMX6UL)

Environment:
I used step 2 and 3 to test the environment to be able to get to steps 4 and 5.
I used kernel from L4.1.15-2.0.0 GA.
Debug information
See above the sound cards I have just after the modprobe command line on each imx7D Sabre SD and imx6UL EVK boards.
root@imx7dsabresd:~# modprobe g_audio c_srate=48000
g_audio gadget: Linux USB Audio Gadget, version: Feb 2, 2012
g_audio gadget: g_audio ready
g_audio gadget: high-speed config #1: Linux USB Audio Gadget
root@imx7dsabresd:~# aplay -l
**** List of PLAYBACK Hardware Devices ****
card 0: wm8960audio [wm8960-audio], device 0: HiFi wm8960-hifi-0 []
  Subdevices: 1/1
  Subdevice #0: subdevice #0
card 1: sii902xaudio [sii902x-audio], device 0: sii902x hdmi snd-soc-dummy-dai-0 []
  Subdevices: 1/1
  Subdevice #0: subdevice #0
card 2: UAC2Gadget [UAC2_Gadget], device 0: UAC2 PCM [UAC2 PCM]
  Subdevices: 1/1
  Subdevice #0: subdevice #0


root@imx6ulevk:~# aplay -l
**** List of PLAYBACK Hardware Devices ****
card 0: wm8960audio [wm8960-audio], device 0: HiFi wm8960-hifi-0 []
  Subdevices: 1/1
  Subdevice #0: subdevice #0
card 0: wm8960audio [wm8960-audio], device 1: HiFi-ASRC-FE (*) []
  Subdevices: 1/1
  Subdevice #0: subdevice #0
card 1: Gadget [Linux USB Audio Gadget], device 0: USB Audio [USB Audio]
  Subdevices: 1/1
  Subdevice #0: subdevice #0